HEART STRINGS FOR HEROES
has teamed up with
WREATHS ACROSS AMERICA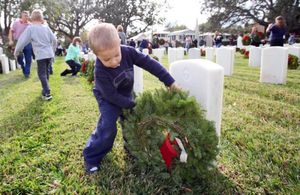 Our mission is:
 To HONOR the fallen every year,
with the laying of a wreath,
on the grave of a HERO.
This event is something everyone can unite and participate in together,
 in HONOR of those who gave ALL for our FREEDOM.

You can join the ARMY of SUPPORT in a variety or ways.
Below you can purchase a WREATH to be placed on the resting place of a HERO.

Heart Strings For Heroes is supporting LAYING OF THE WREATHS in 2 locations.

CLICK HERE To have your wreath placed at BUSNELL NATIONAL CEMETARY In Bushnell Florida

CLICK HERE To have your wreath placed at ARLINGTON NATIONAL CEMETARY In Arlington Virgina

You can also join the thousands of volunteers,
who personally come to these selected cemeteries,
and distribute the actual wreaths, to each grave of our fallen HEROES.

Please e-mail: HeartStringsForHeroes@live.com and request December wreath laying details.
Heart Strings For Heroes will be organizing a motorcycle ride up to
Bushnell National Cemetery in December.
Everyone is welcome to participate!
Dates will be posted here in the coming weeks.

Thank-you for never forgetting our HEROES!