The 
Heart Strings For Heroes
TREE OF ETERNAL REMEMBRANCE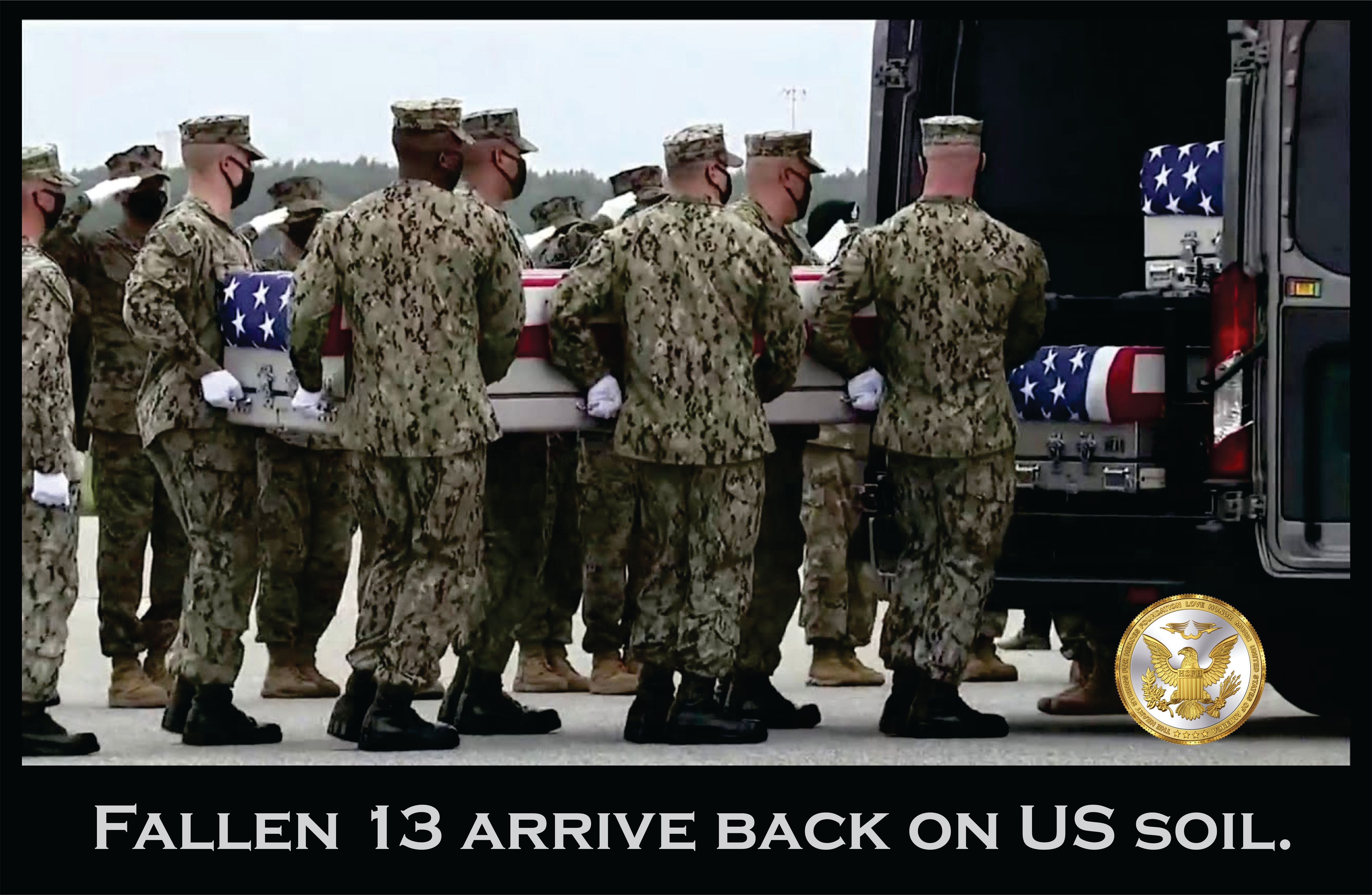 On August 26th 2021 - 13 American Military Service men & women
11 MARINES - 1 ARMY - 1 NAVY
were tragically KIA at the Kabul airport in Afghanistan by a suicide bomber
while they were searching for evacuees who were rushing to leave the
country.
This attack was the deadliest enemy strike since 2011 when a Chinook
helicopter was shot down, killing 30 US Troops.
Most of these 13 troops were in their early 20`s and sadly, they look
even younger in their pictures.
We decided to create a "everlasting" memorial for these fallen HEROES
for many reasons, the most important being that their young lives and
legacy must continue to live on long after the tragic circumstances that
unfolded on that fateful day... August 26th 2021. And must also live on
long after the news headlines fade into obscurity.
These scars will (unfortunately) live on forever with these families.
These 13 brave men & women join the countless other warriors
who have sacrificed their lives for the ongoing fight for enduring
freedom... and for that, it is OUR duty to NEVER stop saying their names,
in their HONOR and help bring healing to their families.
Many family members of these fallen HEROES
have not only been devastated and forever changed by the
loss of their loved ones, but are also angry at the way the whole
situation was handled by the administration & military itself.
"The commanders on the ground should have recognized this threat and
addressed it" stated Steve Nikoui (father of Marine Kareem Nikoui) 
Many other parents share this same sentiment.
Names of our HEROES K.I.A. - August 26th - 2021
Marine Corps Lance Cpl. David Espinoza, 20, of Rio Bravo, Tex.
Marine Corps Sgt. Nicole Gee, 23, of Roseville, Calif.
Marine Corps Staff Sgt. Darin Taylor Hoover, 31, of Utah
Army Staff Sgt. Ryan C. Knauss, 23, of Corryton, Tenn.
Marine Corps Cpl. Hunter Lopez, 22, of Indio, Calif.
Marine Corps Lance Cpl. Rylee McCollum, 20, Jackson, Wyo.
Marine Corps Lance Cpl. Dylan R. Merola, 20, of Rancho Cucamonga, Calif.
Marine Corps Lance Cpl. Kareem Nikoui, 20, of Norco, Calif.
Marine Corps Cpl. Daegan William-Tyler Page, 23, of Omaha
Marine Corps Sgt. Johanny Rosario, 25, Lawrence, Mass.
Marine Corps Cpl. Humberto Sanchez, 22, Logansport, Ind.
Marine Corps Lance Cpl. Jared Schmitz, 20, of Wentzville, Mo.
Navy Hospital Corpsman Max Soviak, 22, of Berlin Heights, Ohio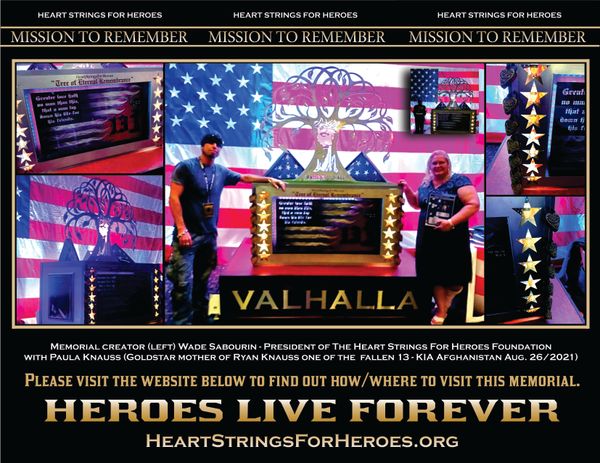 Our eternal tribute spotlights all 13 men and women
KIA in Afghanistan Aug. 26th 2021.

The SCULPTURE itself is precision cut out of aluminum
and stainless steel to fortify its endurance to stand
 the test of time.
The PURPLE wood that is prominent under the
metal flag is actually "Purple Heart wood" that is naturally grown
with its rich, beautiful purple color... and has NOT been dyed or stained
with any color... in any way.
Purple represents the Purple Heart Medal given to those
injured or killed in combat.
The waving, scorched, METAL FLAG represents the
attack and devastation that took place on
August 26th 2021... and that our flag may it be
withered, torn and burned... our AMERICAN SPIRIT can NEVER be
 destroyed and will continue on in all its glory as a
 symbol of AMERICAN FREEDOM and resilience.
Each STAR holds the photo of every HERO KIA on Aug. 26th 2021.
Each STAR is lit up to represent the stars in the heavens that
NEVER cease to shine.
Attached to each picture of the fallen 13 HEROES
is a HEART SHAPED LOCK, engraved with each name of the fallen.
The LOCK secures that our commitment to honoring and
never forgetting each name, their service
and their ultimate sacrifice... is NEVER BROKEN. 
The bible verse JOHN 15:13
"Greater love hath no man than this, that a man lay down his
life for his friends." Is carved into the flag to represent the LOVE that each
of these warriors had for their country and the sacrifice they
made for their fellow man.
The TREE SECTION represents the continuous life that flourishes
 with the memory and spirit of those who laid down their lives.
Inside the bottom of the TREE, our LORD JESUS CHRIST watches over and
bows his head.
The GREEN GRASS represents the grass on ALL the graves of ALL the fallen
AMERICAN HEROES laid to rest, on foreign and domestic soil.
The word VALHALLA is displayed at the base of the memorial.
The meaning of VALAHALLA is "Hall of the Fallen"
taken from Norse Mythology.
"Until Valhalla" is a common phrase amongst soldiers, which
simply means; when a warrior ends his life in a heroic battle 
he enters VALAHALLA… a sacred place for only those who
have fought and died in tough battles. This was motivation
for Viking warriors, in the middle ages, to fight until death.
When we created this memorial, 
our goal was have a permanent symbol
reminding us of what TRUE SACRIFICE looks & feels like
and to help heal the families left behind, reassuring them
their child will never be forgotten by a grateful nation.
We also dedicate this memorial to ALL fallen
warriors, past & present.
We are proud to announce this will be on permanent display at:
(to be announced)
The
Heart Strings For Heroes Foundation