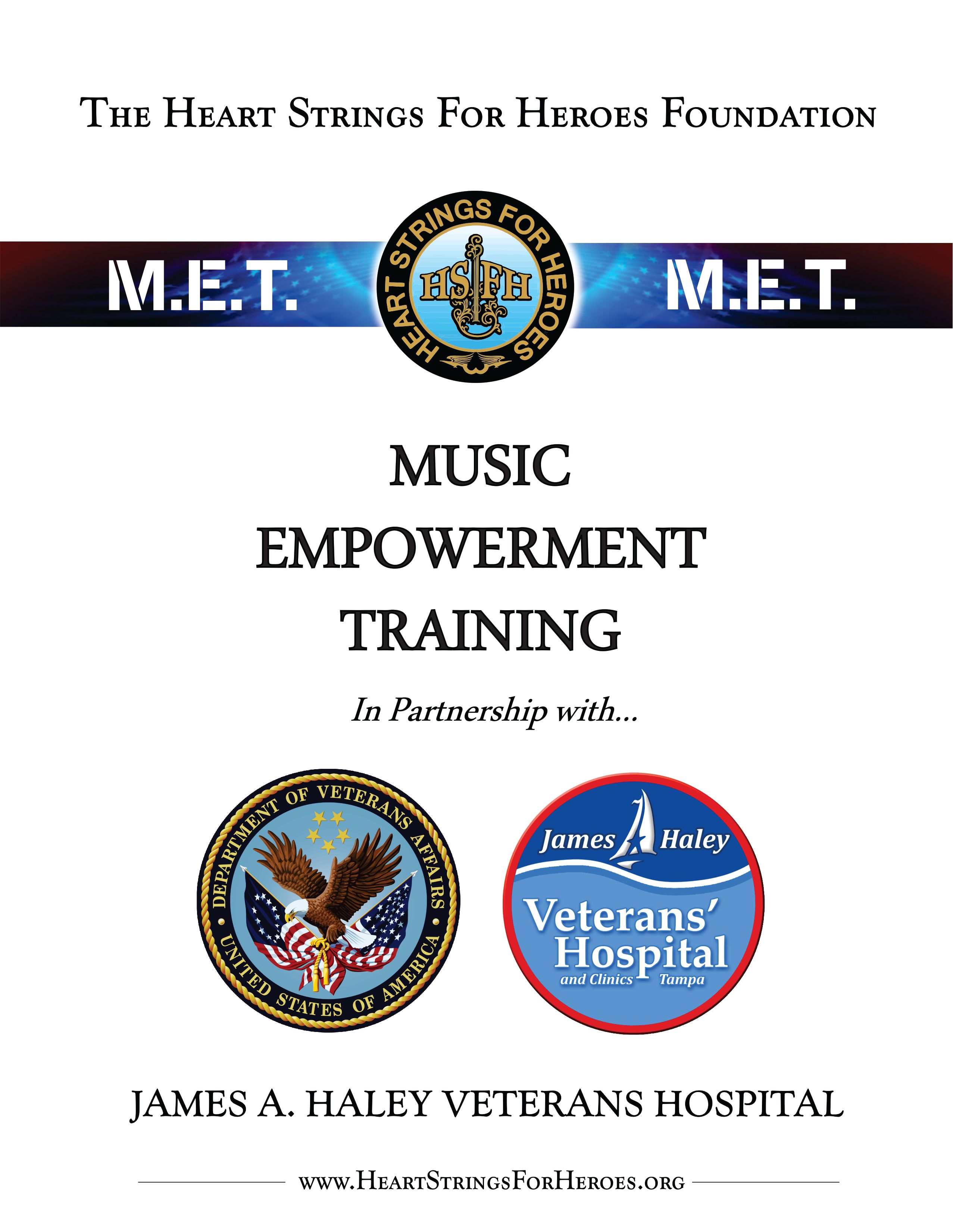 M.E.T.
THIS AMAZING MUSIC EMPOWERMENT TRAINING COURSE
HEART STRINGS FOR HEROES FOUNDATION,
MUSIC THERAPISTS AT JAMES A. HALEY VETERANS HOSPITAL,
 AND INTERNATIONAL RECORDING ARTISTS.
THE PURPOSE OF THIS COURSE 
IS TO EMPOWER OUR WOUNDED COMBAT HEROES
WITH THE HEALING POWERS AND ULTIMATE
BENEFITS OF MUSIC TRAINING.
WE FOCUS ON ALL ASPECTS OF THE GUITAR,
FROM THE ANATOMY OF THE GUITAR,
CHORDS, PERFORMANCE, THEORY
IN - PATIENT & OUT - PATIENT VETERANS WITH
MENTAL AND PHYSICAL ISSUES ARE ELIGIBLE TO
APPLY FOR THIS 9 WEEK COURSE.
DOES NOT MATTER IF YOU DON`T KNOW WHICH END IS UP OR DOWN
ON A GUITAR, OR YOU ARE AN INTERMEDIATE OR ADVANCED PLAYER. 
IF YOU HAVE THE WILL, DESIRE AND COMMITMENT TO LEARN, WE
ARE DEDICATED TO TEACHING YOU, AT NO COST TO YOU. 
IT IS OUR MISSION TO PLACE THE
GOD GIVEN GIFT OF MUSIC IN THE HANDS OF AS MANY
WOUNDED HEROES AS POSSIBLE. 
MUSIC HAS PROVEN TIME & TIME AGAIN TO PROVIDE
ALTERNATIVE HEALING TO DRUGS & ALCOHOL DEPENDENCY
and or ABUSE AND DEPRESSION.
MUSIC ALSO IMPROVES MOTOR SKILLS AND
ASSISTS IN COGNITIVE DEVELOPMENT.
THOSE WHO DEDICATE THEMSELVES, WORK HARD AND PASS THIS COURSE,
WILL BE REWARDED IN SO MANY WAYS!!
ONE OF THE AMAZING REWARDS....
ALL GRADUATES WILL RECEIVE A BRAND NEW GUITAR,
CHALLENGE COIN 
AND COURSE DIPLOMA FROM THE 
HEART STRINGS FOR HEROES FOUNDATION
and JAMES A. HALEY VETERANS HOSPITAL.
In the words of John Lennon..
"WE GET BY WITH A LITTLE HELP FROM OUR FRIENDS"